The Heritage of Lawrence County, Tennessee
The Heritage of Lawrence County, Tennessee may still be purchased through the Lawrence County Archives while supplies last. However, our inventory is getting low. If you don't want to miss out on this once in a lifetime opportunity to know more about Lawrence County and its people, you might want to think about purchasing the book before too long.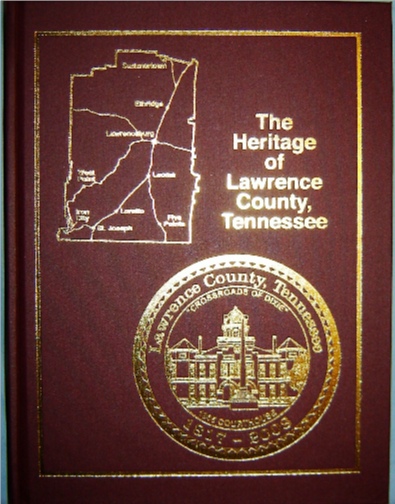 The book is hardbound in burgundy with gold embossing on the outside. The front and back inside covers are filled with pictures of old homes, businesses, buildings and other places around the county. Material included in the book consists of a brief history of the county, churches, communities and cemeteries.
But most importantly, it contains a wealth of information on the history of families, family stories, military articles and pictures submitted by individuals on their family. Some families were only passing through and stayed for a very short time, while others have been in Lawrence County from its beginning in 1817. It will provide enjoyable reading for years to come since it can be passed down through for generations as a family heirloom.
The books also make wonderful presents for family members.
For further information, you may contact the Lawrence Co. Archives at 931-852-4091; email: <lcarchives@lorettotel.net>. Please use the order form below when ordering.
The genealogical society recently discovered that the printer had 50 books he was
holding incase we needed more. These have been purchased are now in stock.
When these are gone, there are no more anywhere.

----------------------------------------------------------------------------------------------------------------
ORDER FORM FOR THE HERITAGE OF LAWRENCE COUNTY, TENNESSEE
PLEASE ENTER MY ORDER FOR:
_____ Copies of the Heritage of Lawrence County, TN Name:
At $65.00 each, picked up in Lawrence County

_____ Copies of the Heritage of Lawrence County, TN US Postal Service:
At $77.00 each, shipped to the address at right Address:_________________________


City: _____________________________

State:___________ Zip Code: ________
SEND CHECK OR MONEY ORDER TO:
______ Total amount enclosed Lawrence County Genealogical Society
2588 Highway 43 South
Leoma, TN 38468



Last Updated February 10, 2014 by Kathy Niedergeses