Welcome to the Home Page of the
Lawrence County Archives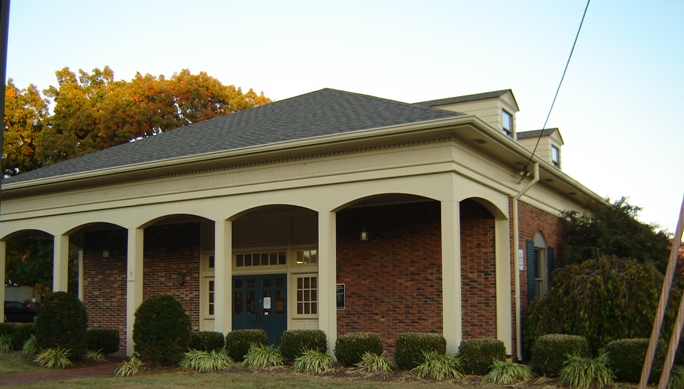 2588 Highway 43 S
Leoma, TN 38468
Phone: 931-852-4091
Email: lawrencecountyarchives@gmail.com
Hours: Monday - Friday 8:00 a.m. to 4:30 p.m.
Archivist Ashley Armstrong

The archives is closed on all Holidays.
Other days closed will be posted here in advance.
THE ARCHIVES IS STILL ONLY OPEN TO THE PUBLIC BY APPOINTMENT. YOU MUST WEAR A MASK WHILE AT THE ARCHIVES.
THE ARCHIVES WILL ALSO BE CLOSED THURSDAY, NOVEMBER 19TH FOR TRAINING.
THE ARCHIVES WILL BE CLOSED FRIDAY, NOVEMBER 20TH AND MONDAY NOVEMBER 23RD.
THE ARCHIVES WILL CLOSED THURSDAY AND FRIDAY, NOVEMBER 26TH AND 27TH FOR THANKSGIVING.


On this website, you will find information about the Lawrence County Archives, links to various records at the archives, and links to other websites with historical or genealogical records. I retired as director/archivist of the archives at the end of 2018, but I have retained this page, and when I have time, I upload additional information or links. I manage both this page and the Lawrence County Genealogical Society's website which you will find a link to close to the bottom of this page. Ashley, the new archivist, has nothing to do with the webpage and cannot answer your questions concerning anything it contains. If you wish to contact Ashley about an appointment to visit the archives, to ask for assistance in research, or request copies, please use the email and phone number above. If you have a question about this web page or about the Lawrence County Genealogical Society, please email me, Kathy Niedergeses, and I will try my best to assist you. I am also the Lawrence County Historian and can assist you in some cases, especially any historical questions about Lawrence County, if Ashley is unable to do so.
The Lawrence County Archives has reopened to the public for onsite researchers and to purchase copies BY APPOINTMENT ONLY UNTIL FURTHER NOTICE.
Due to the size of our research area, only 1 patron or small group of patrons traveling together will be scheduled at a time. To schedule your visit, please contact the Archives at 931-852-4091 or lawrencecountyarchives@gmail.com. Please wear your own mask and bring your own note-taking materials, if possible. Thank you, Ashley
Check out the archives on Facebook and Instagram!
There are still 9 copies of The Lawrence County, Tennessee Pictorial History Book - Bicentennial Edition if you wish to purchase a copy. The book is filled with approximately 1,200 mostly old pictures of the county throughout the past 200 years. For more details, click on the link for the book in the General Information and Research Helps section below. Once these books are gone, there will be no more printed.
There are several broken links on this web page, mostly due to a change in the web page url, especially anything dealing with the State of Tennessee. I will find the new links and fix them as soon as time allows.
The Lawrence County Archives was formed in 1988 under the supervision of the Lawrence County Public Records Commission. At that time, the records were transferred from the basement of the courthouse to the basement of the post office. In February of 2005, the archives moved to the a temporary location in the east room of the library. In the fall of 2008, the archives moved to their current location in the former First Farmer's & Merchant's building in Leoma, TN. This is to be our permanent home. I hope everyone will continue to use the archives facility for research since even more records are now available.
In the beginning, the archives main purpose was to sort, clean, index, and prepare the hundred or so large boxes of old loose original records. The original loose records were the first document in any land transaction, court case, will, etc. This collection of records contains wills; deeds; land grants; land entries; land surveys; estate settlements; administrator and executor bonds and settlements; guardian bonds and settlements; court petitions for County, Chancery and Circuit Courts; road petitions; marriages; divorces; tax and voting lists; Rebel claims against the United States; and much more. These loose records contain the actual signatures of your ancestor provided they could write their name.
Our county was formed in 1817, with court proceedings and land transactions starting in 1818 when the official government began. The county has a treasure trove of valuable information on our ancestors and Lawrence County, since we are fortunate that our courthouse has never burned. It was ransacked some during the Civil War, so a few records are missing. The records we have processed for researchers to use cover the time period 1818-1909. As time permits, the time span will continue further into the 1900s. The records processed so far are also available on microfilm. Microfilm of the record books from 1818-1997 for some offices, and through the 1960s in others is also available.
Since the archives inception, we have amassed a vast amount of other sources for researchers to use. Some of these are census 1820-1930 (microfilm and book form, except 1930 is only microfilm and head of house hold index); cemetery records; over 2,000 family file folders; some birth and death records; newspapers 1846-1986 (many issues missing in the 1800s); county, community, church and other histories; Civil War information; Lawrence County Historical Society bulletins for 1953-1996; Lawrence County Genealogical Society Journals 1997-present; early plat maps and other maps; records on Lewis, Wayne, Giles, Maury, Cocke, Perry, and Greene and other counties in Tennessee; on Lauderdale, Limestone, St. Clair Counties in Alabama; a large collection of books containing marriages, wills, deeds, etc. for Virginia; plus much more.
The archive's staff also offers a service that most people find very valuable for a very modest fee. If you are unable to travel to the archives to do your own research, I will perform the research for you for $5 an hour plus copy and postage fees. (See research policy link below.) So many people take advantage of this service that I stay weeks behind in actually finishing the research. So browse around the archives site and let me know if I can assist you in anyway.
General Information & Research Helps
Lawrence County Census Records, Tax Lists & Land Grants
Migration Patterns In Lawrence County, Tennessee
Migration mid-1880's
under construction

Alabama Migration 1908-1920 under construction
Military Records and Sources
Births, Deaths, Doctors, Marriages, Wills and Adoptions
Cemeteries In Lawrence County, Tennessee
Bible Records
Deaths & Other Info Taken from Lawrence County Poor Farm Records
Fires, Flood, Tornadoes & Other Disasters
Fires in Lawrence County
1860s - early 1900s


Floods in Lawrence County

Tornadoes & Windstorms
African-American Research
| | | | |
| --- | --- | --- | --- |
| 1850 Slave Census for Lawrence Co. | | | |
| | | | |
| | | | |
| | | | |
Other Documents of Interest
Links to Other Sites of Interest
Last Updated October 26, 2020 by Kathy Niedergeses