Lawrence County Historical Society
Located on Waterloo St.
Lawrenceburg, TN 38468
(Two blocks West of the Square, across from the Fire Department)
Contact Information:

Curtis Peters Doyce Shaddix
512 Douglas Dr. 1290 McCarter Rd.
Lawrenceburg, TN 38464 Lawrenceburg, TN 38464
Phone: 931-212-1944 Phone: 931-242-1513
email: clpeters@charter.net email: dtshaddix@yahoo.com

The Lawrence County Historical Society meets the fourth Thursday of each month at 6:30 p.m., except in November the meeting is the third Thursday, at the Old Jail Museum located on the south side of Waterloo St. in Lawrenceburg, TN. There is not a meeting in December. A variety of programs are presented by various individuals on subjects ranging from the history of Lawrence County in general, the history of old buildings, family histories and much more. (See list of upcoming programs below.)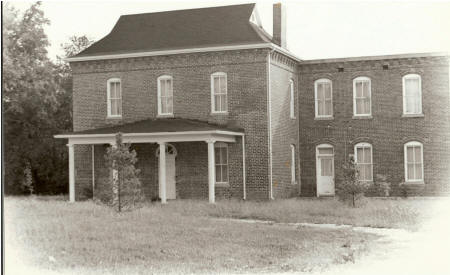 The Old Jail Museum, built 1893.
The society's museum is open to the public "mid-April through mid-August" the following hours:
Mon. open 12:00 p.m. until 2:00 p.m.
Tues., Wed., Thurs., & Fri. 10:00 a.m. until 2:00 p.m.
Sunday, Monday, and Saturday by appointment only.
The museum is closed from September through March, except by appointment.

The museum contains many new and interesting exhibits: David Crockett items; lots of local history; General Hugh Harris Collection; Military uniforms and items related to the Civil War, Spanish American War, World War I and II; Lawrenceburg CCC & POW Camp pictures, history & items discovered at the site; primitive agricultural tools; Vaughan Music memorabilia; many old photographs; historical documents, & much more! Recent additions to their collection are a Japanese flag, Nazi flag, North Vietnamese flag, and a colonel's uniform in the Hussein's Army. (More great finds, information and donated articles are being added each week.) If you have anything you would like to donate, please contact Curtis Peters at the phone & email above.
Officers:
President - Curtis Peters
Vice President - Denny Miner
Secretary - Doyce Shaddix
Treasurer - Jeannette Yates

Programs:

October 26, 2017, at the Old Jail Museum - The topic of this meeting is the Christian Home on West Point Road, started by J.H. Stribling in 1935. Teresa Purcell, who lived at the home for several years, will present the program drawing from her first-hand experiences of life at the home.
November 7, 2017, at the Lawrence County Public Library - The Civilian Conservation Corps, better known as CCC, will be presented by Bill Jamerson, a well-known author and songwriter, using music, storytelling and a short video from his PBS film. Mr. Jamerson will be dressed in uniform of the time period. This promises to be an informative, nostalgic program with much laughter and heartfelt stories.
Main Objective: The organizations main objective is to preserve the county's history, while educating people on the importance of keeping history alive and passing the knowledge from one generation to the next.
Funding: The upkeep and utilities for the old jail museum has been funded mainly by membership dues and donations. Recently, the county has started providing a small amount of funding each year and the City of Lawrenceburg pays utilities and keeps the grounds. If you feel the preservation of this historic building and the items housed in it are important to future generations, please give a donation, no matter how small, to the historical society. Your donation can be sent to the Lawrence County Historical Society, c/o Jeannette Yates, Lawrenceburg, TN 38464.
With a membership in the Lawrence County Historical Society, which is $20.00 per year, you will receive four issues of the society's newsletter filled with information about the history of various aspects of Lawrence County. To become a member, please send your name and address, along with your check, to the Lawrence County Historical Society at the address above.
Updated April 2, 2018 by Kathy Niedergeses